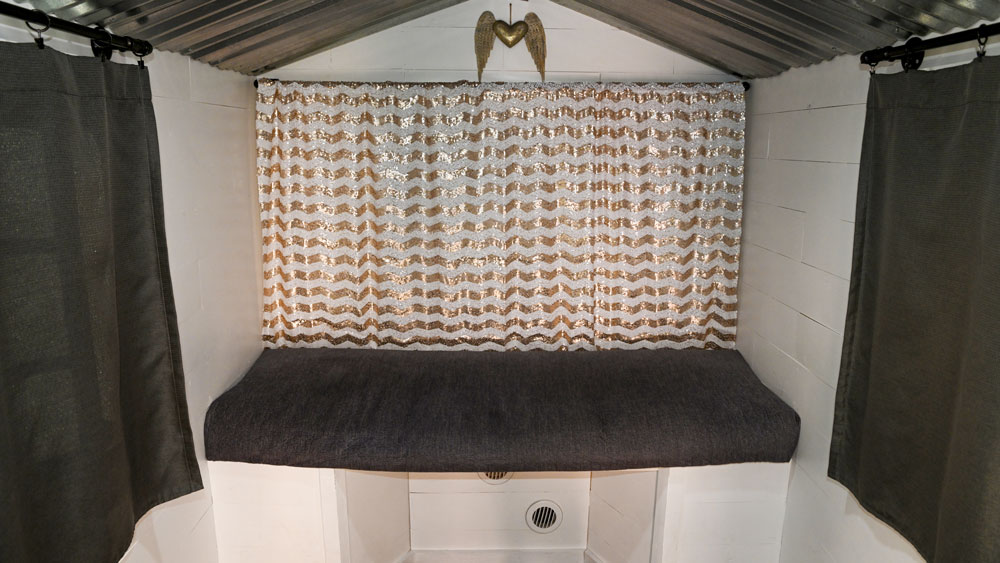 TINY HOUSE SETUP REQUIREMENTS
The tiny house booth is not just adorable, but it's also climate controlled and equipped with pro-grade equipment. The vintage traffic signal kiosk houses a quality DSLR camera, 13" touch screen, modeling light, beauty flash, and dye sublimation printer. This booth is sure to be the highlight of any event! Click the toggles below to view the tiny house setup requirements and answers to some frequently asked questions (FAQs).
Our lovable new photo booth on wheels is inspired by the farmhouse feel (shiplap walls, a tin ceiling, and wood floors) and enhanced by pro-grade camera and flash, vintage traffic signal kiosk, and charming props and décor. Guests can snap and print unique keepsakes in seconds. This unforgettable experience will be the highlight of any event. It's even climate controlled!
WIFI/Cellular: Certain tiny house features require strong 4G cellular service and/or an internet connection of at least 1 MB to work properly, including the online gallery, extra social sharing station, and instant sharing to text, email, and QR-code. If the venue does not have adequate service, we'll still be able to print via our hotspot. However, texts, emails, and photo uploads will be queued until we have adequate WIFI access.
Other Requirements: The tiny house requires a space of at least 9'w x 16'l x 9'h, plus extra space for optional props. We have an electric dolly to get the booth in tight spaces; however, we still need to be able to pull relatively close to the chosen location (no hills!). The tiny house is fairly low to the ground, so the route to the location shouldn't have speed bumps, steep curbs, large potholes, etc. The tiny house must be placed on solid and level ground, within 15 feet of a properly installed and grounded power outlet (110V, 20 amps, 3 prong). The booth should not block access to exits, bathrooms, food/drinks, etc. If the venue does not have power, we will provide a power generator for a $25 fee.
Outside Dimensions: 8' wide x 15' long (including the deck area on the back) x 8.5' tall.
Inside Dimensions: 6' wide x 9' long.
Bench Seat: Approximately 6′ wide; can accommodate as many guests as you can creatively fit.